If you're like me and always looking for inventive ways to reduce the number of dishes you use, then you may want to look into this clever product. Called the Himalayan Salt Plate, you can use it to cook your food on the stove, in the oven and even on the grill – all without the need for pans or trays.
Freshly cut from ancient mineral deposits, this 8-by-11-inch salt slab can also be used as a plate – or even a serving platter for guests. It can be chilled to serve appetizers and raw foods like sushi and retains the cold for an hour or more.
The slab seems to handle just about anything you throw at it…except water, which can degrade the surface. After a big cook-up, all you need to do is give it a good scrub with a scouring pad and a quick rinse, then let it dry thoroughly before using it again.
The Himalayan Salt Plate is available from Sur La Table for $40 and looks like a great way to get rid of all that toxic Teflon from your kitchen.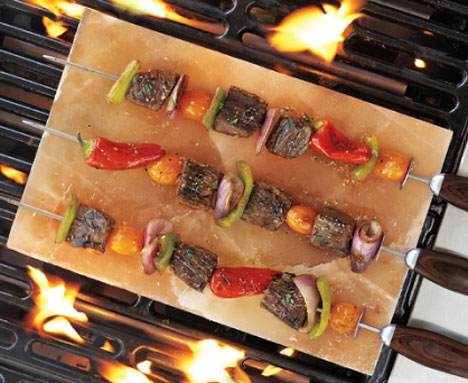 Sources:
Sur La Table and NY Times