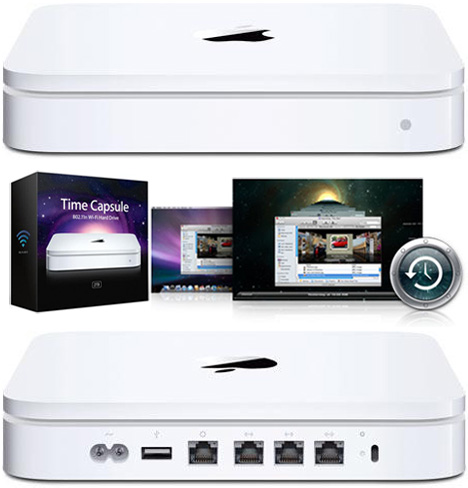 Apple quietly updated their Time Capsule lineup yesterday adding a newer, more capacious 2TB version whilst removing the smaller 500GB model.
If you're unfamiliar with Apple's Time Capsule, it is essentially a wireless backup device and WiFi router in one. It works with both Mac and PC, but excels when used in-sync with the company's brilliant Time Machine backup/archival software built-into Mac OS X Leopard. This combo wirelessly captures the state of your Mac (including all software, files and settings) with each backup to make recovery easy should your hard disk fail, or you misplace or delete a file, or a buggy software update cripples your computer. You can return to a previous state of your choosing, which may not necessarily be your last backup.
Time Machine works with most external storage devices out there, but you have to remember to do regular back-ups and manually connect them to each computer that needs backing up. The beauty of the Time Capsule is that when used in conjunction with Time Machine, performs scheduled backups wirelessly – on all your computers – while you work. Or play.
Both the original and updated 500GB models have been quietly dropped from the Apple Store, but can still be found (at heavily discounted prices) from resellers. If you were contemplating purchasing this drive in the past but balked at the price (like I did), now might be the time to grab one before they all disappear.
The 1TB Time Capsule meanwhile has received a large retail price cut from $499 to $299 with some stores pushing that further to $288.99. This price actually brings the Time Capsule more in line with basic 1TB external drives on the market and thus, should now sell like crazy.
The new 2TB Time Capsule now includes support for up to 50 concurrent users and offers faster WiFi – operating simultaneously on both the 2.4GHz and 5GHz bands. A new guest networking function lets you share your Internet connection without sharing your password and is available now, retailing for $499.00 | £379.00 at the Apple Store. The 2TB model can also be purchased from both OnSale and MacMall for a reduced $479.99.