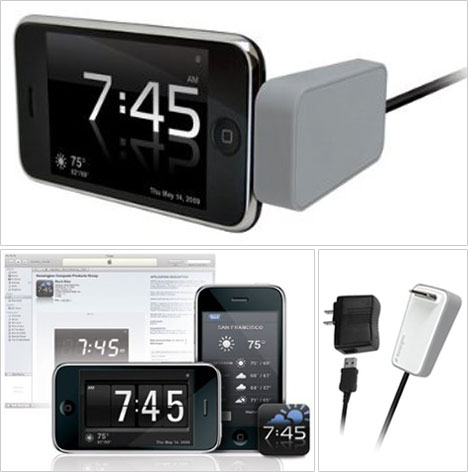 Kensington's new Nightstand Charging Dock is a minimalist gadget that converts your iPhone or iPod Touch into a slimline bedside clock and weather station.
Featuring a kickstand charging cable that supports, angles and tops up your iPhone while you're getting some rest, the Nightstand Charging Dock works in conjunction with a Rise&Shine Clock and Weather application – which you can download from Apple's App Store for no extra cost. The dock doesn't mention iPhone 3GS compatibility, but should work with all iPhone and iPod Touch models. The charger itself can be used on smaller iPods too, just sans the clock app.
The app features easy-to-read time and weather, gives you three clock style options and keeps your iPhone's display turned on – just like a regular bedside clock. Thankfully though, there's also a dimmer control option – so you don't have to hide the thing in order to get some rest.
A great idea for travelers, minimalists or people short on space – Kensington's iPhone / iPod Touch Nightstand Charging Dock is available now on pre-order from Amazon.com for $39.99.
Sources:
Amazon.com via ipodnn