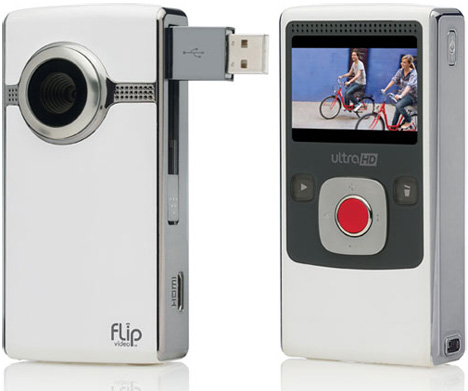 Pure Digital today announced an updated version of their Flip Ultra slimline camcorder, as well as their new Flip UltraHD – which brings high-definition recording to the lineup. The models sport a fresh new design, a larger 2-inch display and double the memory (8GB) on the UltraHD, providing both players with enough storage for 2 hours of shooting time.
There is also a new AA battery pack (included on the UltraHD), that can extend HD shooting time by up to 3 hours. On the standard-def model, you can expect as much as 5 hours extra shooting – but the pack is an optional extra.
The new Flip Ultras still include the original 2x digital zoom and the distinctive swinging USB arm connector that adorn all of Flip Video's models, including their smaller Mino and MinoHD camcorders.
The Flip UltraHD looks the better deal at $199.99, with the UltraSD coming in at a not significantly less $149. Like earlier models, both can be skinned in your own custom patterns and designs – if ordered directly through the Flip Store. If you don't mind the standard black or white with a chrome trim, you can also grab them now at Amazon.com.
Sources:
Flip Video (Press Release) via Electronista