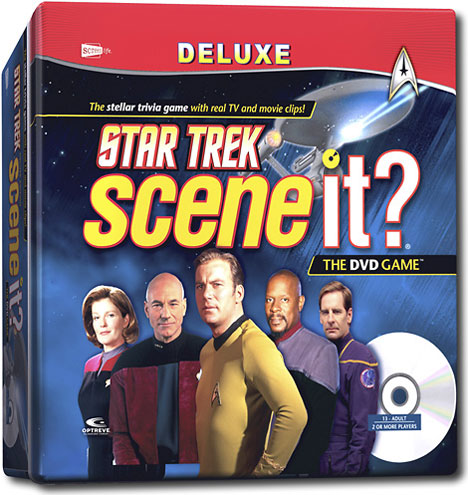 Scene It? Star Trek Deluxe Edition is a DVD / board game combo packed with trivia questions and on-screen puzzles that are bound to put your Sci-Fi knowledge to the test. Recently released by Screenlife Games, Scene It? Star Trek Edition covers all 5 Star Trek series as well as the first 10 feature films and would be great for get-together's with other ST fans.
Featuring patented Optreve optimization technology to ensure gameplay remains fresh – and including questions such as "How many tubes are in the back of the Borg Queen's head?," the game, like Star Trek Scrabble we've seen previously, is an opportunity to learn random bits of info too.
Star Trek Scene It is available now for $39.99 with a 5 star customer rating at Amazon.com. Also, for a preview of the on-screen action, be sure to check out the online demo.
Sources:
PR Newswire (Press Release) and Amazon.com