Metal detecting was fun as a kid, right? But can you do it now without looking like a broke loser? You can with your Treasure Seeker's Shoes!
Disguised as fashionable summer wear,  the Treasure Seekers' detect when your feet pass over metal, and the control box alerts you with LED lights and audible beeps. If you want to be more discrete, you can set it to vibrate instead. Three lights let you know what kind of treasure you're dealing with: green for no metal, yellow for the slightest hint of something, and red for major dough.
The Treasure Seeker sandals are made for durability and comfort and come in three sizes to fit both men and women. The control box itself is strapped to your calf, so it won't inhibit your walking, and can be detached to wear them as regular sandals.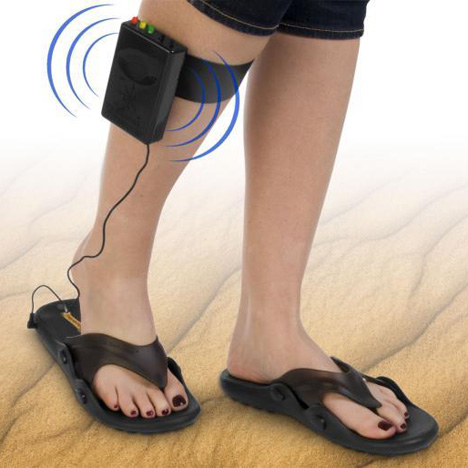 So go! Search for that pirate treasure on the beaches of sunny California. Get your Treasure Seeker's Shoes at iwantoneofthose.com for just £19.99.