Samsung today announced their new HMX-U10 Pocket Camcorder which manages to pack in 1920 x 1080 Full-HD shooting plus 10-megapixel stills – all in a unit with dimensions of just 2.20″ (56mm) x 4.05″ (103mm) x 0.61″ (15.5mm).
The HMX-U10 looks set to compete directly with the recently released Flip UltraHD, matching its 2-inch LCD and adding a "one-touch" YouTube uploading capability. The HMX-U10 goes even further, featuring a 1/2.3-inch CMOS sensor for those 10-megapixel stills – but is held back by a lack of any optical or even digital zoom from its fixed-focus lens.
This ultra-portable camcorder features an oddly-ergonomic seven-degree angled grip (above), a weight of 95g, accepts SD/SDHC memory cards and gives you the option of either USB or AC charging.
The Samsung HMX-U10 is available now on pre-order from Amazon.com for $199.99, with shipping expected to commence on September 25th.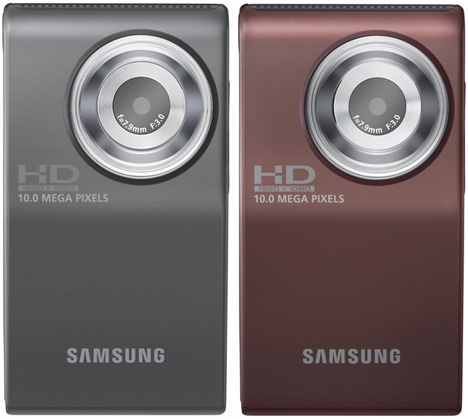 Sources:
Amazon.com and SlashGear